Dutch International Mental Health Hub
(in Dutch: waardenetwerk internationaal verbinden)
The Dutch International Mental Health Hub exists for anyone interested in international developments in mental health. We aim to connect Dutch and international members and stakeholders to share knowledge, inspire and to work together towards a mentally healthy society.
We do this with the vision that mental health is an integral part of our health and well-being; " No Health Without Mental Health". We look at mental health from a multi-sectoral approach to promote mental health and well-being.
Sabien Raams, bestuurder Emergis
"Only in connection with the world around us we can successfully meet the challenges for a mentally healthy society"
This is what we do
We link international initiatives to make them accessible to everyone who is interested in international developments and collaboration in mental health.
We act as a Hub or central point where we bring initiatives, information and contacts from international partners and key stakeholders together to connect them with our members. In this way we form a learning international community of practice.
Global Leadership Exchange 2024
Join us at the Global Leadership Exchange (GLE) in the Netherlands from June 24-28th 2024! International leaders in mental health and disabilities come together at this event to learn, innovate and inspire. They will focus on the central theme 'Leading Change: Flourishing Communities and Wellbeing for All'. 
to IIMHL website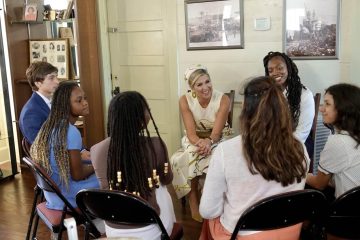 Wonderful example of international exchange
On Thursday, September 8th, 2022, Her Majesty Queen Máxima and Minister Ernst Kuipers visited the Hogg Foundation in Texas, USA. The purpose of the visit was to learn about the Hogg Foundation's innovative integrated approach to strengthening the mental health and resilience of neighborhoods and young people in particular.
read more
Join us
Do you want to become an active member our network or collaborate on a specific topic or project? We would love to connect with you! E-mail Claudia Hovius chovius@denederlandseggz.nl.